Although the name of the Medici family is rightly regarded as being almost synonymous with that of Florence, in fact the Medici, who were not part of the aristocracy during their ascendancy, originated in the area of Tuscany to the NE of Florence, known as the Mugello. During the first period of their political influence in Florence, they retained a strong affinity with that area and in fact their first two villas were built there. These were Villa del Trebbio and Villa di Cafaggiolo, both essentially castles in the sense of huge, strongly fortified residences.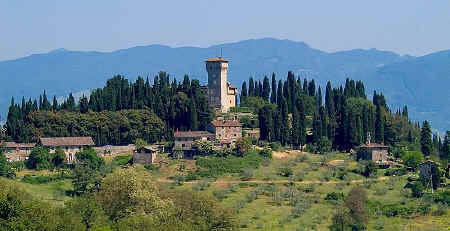 Villa del Trebbio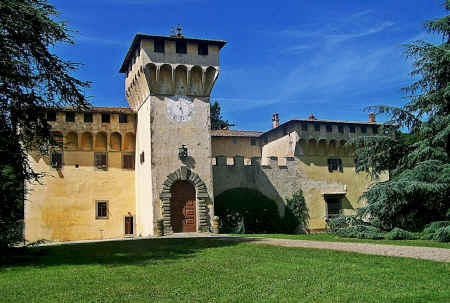 Villa di Cafaggiolo
During the 15 C, Cosimo de' Medici had Michelozzo design villas at Careggi and Fiesole. These were the first true Renaissance villas, informed by the descriptions of Roman villa life by Classical authors. They were still quite severe structures, but already possessed the quintessential features characteristic of a true villa, namely courtyards, balconies, and, above all, gardens. Lorenzo de' Medici spent long periods at the Villa di Careggi.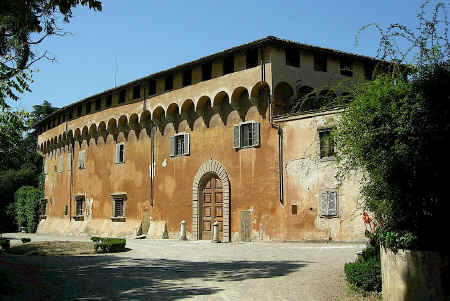 Villa di Careggi
Elena Spolaor on the Villa Medici at Fiesole.

Elena Spolaor on the role of the villa in Tuscan culture.

From the mid-16 C, after the creation of a Medici Duke of Florence and then Grand Duke of Tuscany by Pope Pius V, the popolani branch of the Medici family entered the aristocracy and augmented their status with marriages into the most powerful royal families in Europe. By the end of the 16 C, there were at least sixteen major Medici estates, plus another eleven of secondary interest (mainly agricultural or owned by the Medici family for a short time), together with a constellation of farms and hunting lodges throughout Tuscany. Giusto Utens painted a series of lunettes accurately depicting the main Medici villas as they were in the 17 C. These very informative paintings can be viewed in the Museo di Firenze Com'era. The last Medici villas to be acquired were the Villa di Montevettolini and the Villa di Artimino, bought in 1595/6 by Ferdinando I while he was expanding the Villa di Castello, Villa La Petraia and Villa dell'Ambrogiana. These later villas are outstanding examples of Renaissance and Baroque architecture with spectacular formal gardens.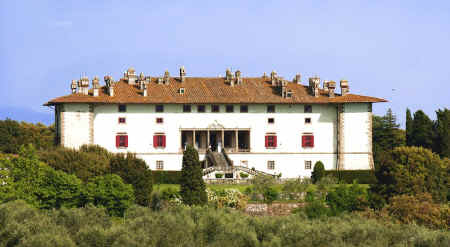 Villa di Artimino
After the death of Gian Gastone de' Medici in 1738, in accordance with the Treaty of Vienna of 1735, the Grand Duchy of Tuscany and the Medici properties, including their villas, were acquired by Francis, Duke of Lorraine (later Holy Roman Emperor).

More about the history of the Medici family.

More about Tuscan villa gardens.


Major villas owned by the Medici
Villa del Trebbio (mid-14th century - 1738)
Villa di Cafaggiolo (mid-14th century - 1738)
Villa di Careggi (1417 - 1738)
Villa Medici in Fiesole (1450–1671)
Villa di Poggio a Caiano (1470–1738)
Villa di Castello (1480–1738)
Villa di Mezzomonte (1480–1482, 1629–1644)
Villa La Petraia (first half of the 16th century - 1738)
Villa di Camugliano (c.1530 - 1615)
Villa di Cerreto Guidi (1555–1738)
Villa del Poggio Imperiale (1565–1738)
Villa di Pratolino (Villa Demidoff) (1568–1738)
Villa di Lappeggi (1569–1738)
Villa dell'Ambrogiana (1574–1738)
Villa La Magia (1583–1738)
Villa di Artimino (1596–1738)
Minor villas owned by the Medici
Villa di Collesalvetti (1464–1738)
Villa di Agnano (1486–1498)
Villa di Arena Metato (c.1563 - 1738)
Villa di Spedaletto (1486–1492)
Villa di Stabbia (1548–1738)
Villa della Topaia (c.1550 - 1738)
Villa di Seravezza (1560–1738)
Villa di Marignolle (1560–1621)
Villa di Lilliano (1584–1738)
Villa di Coltano (1586–1738)
Villa di Montevettolini (c.1595 - 1738)